Tracks - splines
| | |
| --- | --- |
| Use your favorite 3D editor to create tracks, then import the pieces into TrackEd and drive your own track. | |
Splines are used in Racer to smooth out the polygonal surface of the track. It is a method to avoid jerky behavior as you move from one polygon to the other.
Racer uses full 3D spline patches to make tracks a lot smoother (indispensable for ovals for example). Try moving the Oval's spline.ini out of the way and then see if you can still drive the track... Ok, now you're convinced. Even for other tracks, the splines give some extra benefits; the program can see your progress (the length along the track for example) and this enables a future position indicator for example.
Splines are important for AI to know their way for example, and for race positions. So they should always be present. However, for some tracks you may just want to drive on the mesh, if it is defined finely enough. This is especially true for rally tracks for example, or tracks where you want specific potholes/bumps.
The technical background of splines (how they work internally) can be found here. Splines are also used when generating track normals; more information on that can be found here.
The spline is stored in a track's spline.ini file (i.e. c:\sims\racer\data\tracks\YourTrack\spline.ini).
You create splines using TrackEd, which came with your Racer installation.
To add splines, you have a spline mode. In that mode, your selections will snap to existing vertices. Select a line, from LEFT to RIGHT (this is important for the program to be able to decypher your driving direction), and click 'Add longitudinal spline' (or press A). The program will try to find the next best suitable location, so sometimes it will be possible to press 'A' multiple times.
Note that you should start your first line AT START/FINISH! This is because of internal reasons where the first spline is seen as the starting point of the track. Racer actually forces the first spline to match the start/finish line, by recalculating the first loaded spline. If not, this would affect crossing the start/finish line timing.
A tip to create splines more easily is to remove all geometry for a second (clear the track's geometry.ini file), then create a big single track object, with just the road, import that into TrackEd (import only the road DOF files using the import file pattern, for example 'road*'), and add your splines with only that object or those objects loaded. This will make it a LOT easier, and you may only need 'A' to get the job done.
Some parameters in spline.ini that influence the spline usage.
lines.use_mesh_hits; normally 0 (smooth surface). If set to 1, the polygon intersections are used instead. Although you normally probably want to use splines to smooth out the road surface, you may just want to use it for AI, car resets, minimaps, but NOT for road smoothing. As splines only have 2 traces (lateral points), for some banked surfaces (for example, Speedest2/3) you may want to drive directly on the polygons instead.
This option is particularly useful on bumpy tracks, such as rally tracks, where you don't really want the smoothness of the splines. Subdiving polygons in your 3D editor to be sized around 0.5 m maximally seems to be ok for enough smoothness to not notice the lack of splines on parts where things should be smoother.
lines.lateral_divisions; (Racer v0.9.0RC6+) this will subdivide the triangles from the spline laterally. When using 1, you get slightly better performance, but corners which also exhibit camber (twisting road segments) will benefit in smoothness with laterally subdividing the spline. Using the console command 'graph step delta -0.001 0.001 car0.wheel0.surface_info_y' will show in great details the change in surface height at physics frequency. This means you can show how 'coarse' the track surface behaves. With just 1 lateral subdivision, you might notice stepping in this signal when driving through a cambering curve. Using a value of 6-16 will improve this stepping behavior, thus giving a smoother surface. You can check graph step 0 5000 car0.wheel0.load to verify the load on the front-left wheel following the surface signal. Remember that stiff cars, such as Formula Style, will be more sensitive to this smoothing, whereas most road cars won't really have a problem. But for twisting tracks like Laguna Seca's corkscrew, this feature is a must.
The image below displays a spline track with lines.lateral_divisions set to 10 (in Racer v0.9.0RC6).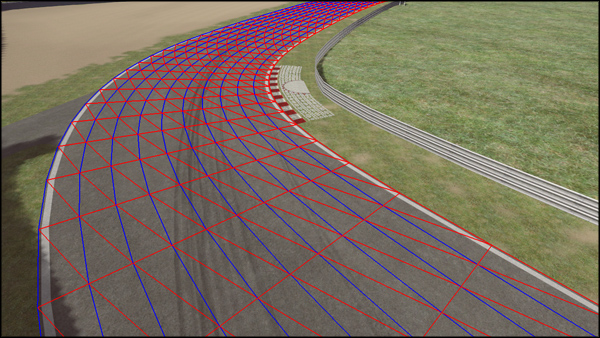 Some additional useful information/parameters on splines:
Minimap painting; in the lines.* section of the spline.ini, you can specify a paint_start and paint_end parameter to determine which lines are used for the minimap. This can be useful for A-B tracks (like rally stages) where you don't want the full spline to be used for minimap generation. The numbers support wrapping; for example if you have 100 spline entries, you can specify paint_start=10 and paint_end=90 to display lines 10-90, but if you specificy paint_start=30 and paint_end=10 then lines 11..29 are skipped.
(last updated February 27, 2013 )